LAS VEGAS -- Remington and Mossberg showed off two new compact pistols at SHOT Show 2019 that cater to female shooters and those with small hands.
Remington has a new version of its RM380 sub-combat pistol available in a light blue that's very close to the color made iconic by Tiffany & Co.
"This is a new finish for us -- the light blue and stainless top end," said Travis Tomasie, a member of Remington's pro shooter team. "This is a great concealed carry pistol ... My wife chose it."
The RM380 is chambered for .380 and has a double-action trigger to help reduce the need for an external safety, Tomasie said.
"We didn't want an external safety," he said, explaining that it's another muscle memory step that many shooters don't want to adapt to. "The double action is going to have a longer, heavier trigger pull, less likely to have a negligent discharge."
It has a six-round magazine and a substantial beaver tail "so you can get a good grip on it when you draw it quickly," Tomasie said.
"A lot of these little guns, when you draw it out of the holster, it's hard to get a good grip," he said. "With this, it's very easy because we designed it for that."
The RM380 is also very easy to rack the slide to chamber a round, Tomasie said.
"I can rack it with one finger, so when you talk about female shooters, smaller-stature shooters or older shooters -- anybody can rack this gun. And part of being confident with your handgun is being able to load it," he said.
The RM380 retails for about $415.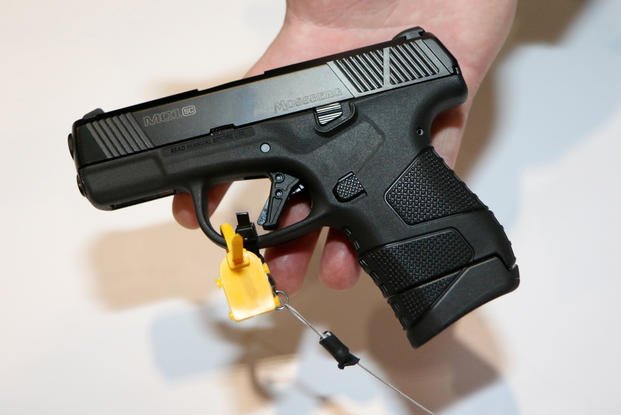 Mossberg also unveiled a new pocket-size pistol this year at SHOT -- the MC1sc striker-fired pistol.
The new sub-compact MC1 pistol is chambered for 9mm and features an optional, extended magazine to fit more hand sizes, according to Joseph Kiesel, senior design engineer with O.F. Mossberg & Sons Inc.
The MC1 has a stainless steel slide with special carbon coating for durability.
"It's a striker-fired pistol so it doesn't require you to pull the trigger to disassemble it," Kiesel said, describing the "safe takedown system."
"Press a button, remove the back, slide cover plate off, remove the striker and slide the and barrel off," he said.
The MCI is also available in a night-sight version with Tritium night sights.
Each MCI comes with a seven-round extended magazine and a six-round flush magazine and retails for $425.
-- Matthew Cox can be reached at matthew.cox@military.com.