LAS VEGAS -- Daniel Defense -- a well-known AR manufacturer -- recently made its first foray into the world of bolt-action rifles.
The new Delta 5 bolt action rifle is loaded with custom features designed to enhance accuracy and reliability, James Ross, director of commercial sales for Daniel Defense, told Military.com at SHOT Show 2019.
"This is our first go into the bolt-gun realm," Ross said. "Some of the design criteria going into this project was to kind of capitalize on the custom attributes of a really high-end, custom bolt gun at a production price."
The Delta 5 -- which is available in 6.5 Creedmoor, .308 Winchester, 7mm-08 Remington -- features a hammer-forged contour barrel and a carbon-fiber reinforced polymer stock.
It has an AICS, 5-round detachable magazine, dual-magazine releases at the bottom of the trigger guard and a Timney Elite Hunter Trigger -- set at the factory at 3.5 pounds of pull, but user-adjustable from 1.5 up to 4 pounds, Ross said.
The Delta 5 features integrated pillars that are mounted into the mini-chassis.
"You don't have to do any after-market gunsmithing and get this thing glass-bedded ... it is going to give you consistent lock-up every single time you put that gun back together," Ross said. "You don't have to worry about having to re-zero your gun."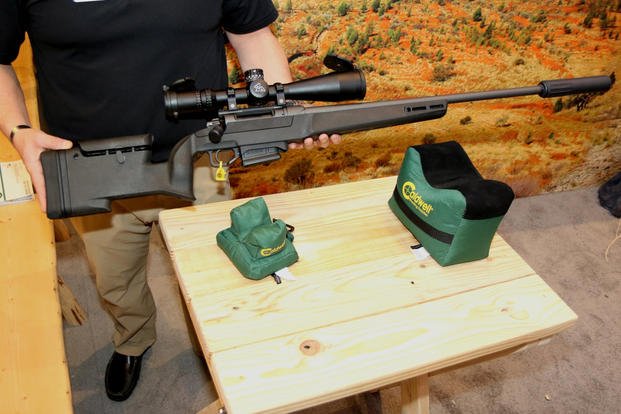 There is also a large, recoil lug on the front of the action "which makes the rifle rock-solid; you aren't going to get shifting under recoil," Ross said.
The three-lug bolt has a diamond light carbon coating and a removable bolt nob to allow the shooter to replace it with a custom bolt nob.
The vertical grip "was designed in a smart way so it guides your finger to that right natural shooting position, so you are getting good straight-back trigger pull every time you are touching the trigger," Ross said.
The Delta 5 can be taken apart with a single wrench.
"It's not a proprietary wrench that's hard to find; it's a T30 wrench it comes with the gun. And you can literally remove your complete action, your buttstock, you can adjust your length of pull -- all of these things with one wrench, and that is really convenient," Ross said.
The rifle weighs just under nine pounds and comes with a 20-inch barrel for the .308 and a 24-inch barrel for the 6.5 Creedmoor and the 7mm-08.
All of the barrels are threaded so they can accept suppressors, Ross said.
"They have really done an excellent job in the overall designing of this gun; it's extremely accurate, extremely durable," Ross said.
"This gun is for everybody; it's for the everyday shooter, the guy that is just out on the range plinking; the guys that are shooting professional [precision rifle series] -- this is definitely capable of doing what they need it to do; and hunters -- it is light enough that you can carry this thing through the woods ... and shoot whitetail [deer] with it."
The Delta 5 will retail for $2,199 and will be available the first week of February, Ross said.
-- Matthew Cox can be reached at matthew.cox@military.com.