LAS VEGAS -- United Defense Corporation's new AK103X series of custom-built rifles and carbines stood out next to the sea of black rifles at SHOT Show's annual range day Monday ahead of this week's expo.
Under the watchful eye of Dan Blackburn, design engineer and owner of United Defense, firearms enthusiasts lined up to shoot the three models of his hybrid AKs, which feature an unfinished, bare-metal profile.
"I love metal; I wanted everyone at the show to see what steel looks like -- that black guns don't always have to be black," said Blackburn.
He admits that his distressed, burnished finish is "very prone to rust in its current condition, since it doesn't have any type of clear coat on it, but I like the kind of inherent beauty that comes with it."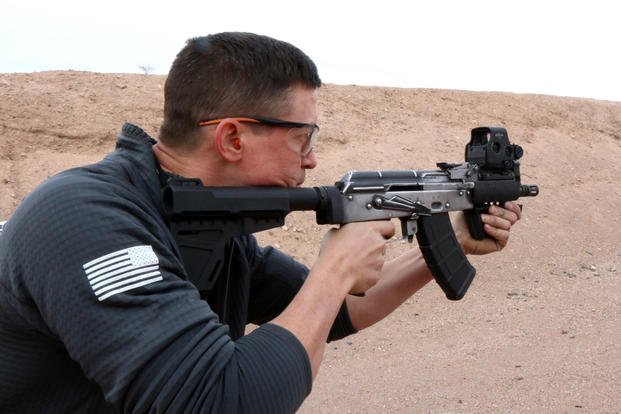 But a shiny finish has very little to do with what sets these AKs apart from the standard Kalashnikovs, Blackburn added.
This is a "new version of what we consider to be a hybrid between an AKM and an AK103," Blackburn said. "One of the main focuses of the design was to provide reduced recoil and very smooth operations."
Blackburn, who comes from an engineering background in the automotive and machining industries as well as aerospace and structural submarine components, has been applying the principles of those fields to firearms components for the past six years, he said.
While he has always loved the AR design, Blackburn wants to "basically drive the AR guys to -- if they are not familiar with AKs -- get familiar with AKs," he said. "I still love the ARs, but my passion is AKs now."
Blackburn's AK103X series of 7.62x39mm weapons began with the X1, which is a full-size rifle with a 16-inch barrel. His two newer designs feature a 12.5-inch barrel model and one with a six-inch barrel.
"We are debating whether we are going to do an 8.5-inch as well in the place of a six- inch barrel," he said.
Blackburn was reluctant to share the finer details about his creations but said that the customized bolt carrier group is not a "complete design of an AKM."
"We have done things to reduce the weight of the system and to reduce the recoil impulse felt to the user, whether it's a muzzle-rise effect or a rear-recoil impulse," he said.
Blackburn uses AK triggers from ALG Defense and Tapco Inc., but enhances them to improve their "feel and reaction and smooth operation," he said.
Blackburn said he hopes to offer a quick-adjustment gas block in the future as well.
The two short-barreled versions, Blackburn said, should be ready for production by mid-summer, but he was careful not to over-promise.
"We are not going to [make] any compromise on quality," he said.
Blackburn said he hasn't decided on a price tag yet, but "it will be over $1,000."
-- Matthew Cox can be reached at matthew.cox@military.com.