High Speed Gear just unveiled the latest generation of its TACO magazine carriers – the Polymer TACO.
The Polymer TACO builds upon many features of its expandable TACO carriers but features a much more durable material, according to a recent HSGI press release.
All of the new Polymer TACOs function identically to their nylon counterparts, but now with the body and brackets made from a durable, flexible, proprietary polymer and laced together with bungee cord offering the familiar versatility HSGI customers count on with the TACO line.
Five different polymer models are being rolled out to cover any shooter's need whether it's pistol, rifle or both.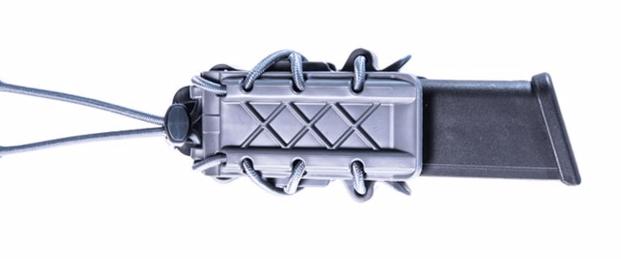 The Poly Pistol TACO and the Poly MINI TACO for handgun magazines includes HSGI's new Universal Clip that allows the user to mount the Poly TACO on MOLLE or a belt up to two inches.
The pop-lock configuration orients any excess bungee down and out of the way. Designed with a flared top for easy insertion of magazines and has attachment points on the front for the addition of other pouches. The MINI TACO offers a shorter pouch for an easier grip on the magazines.
The Poly Rifle features an opposite interior magazine catch channels that enable a smooth insertion of both left and right facing AR-style magazines and flared tops enable easy reinsertion of magazines. The TACO's polymer materials are water proof and built-in grommets allow for easy drainage on all the polymer models. Attachment points on the front of the TACO allow the user to modify and add other pouches.
The Poly X2R TACO is designed for any type of rifle magazine with a double decker feature that allows the user to carry two mags in a single pouch and only takes up three inches of horizontal space on the rifle platform.
The Poly Double Decker TACO combines a rifle magazine pouch and pistol magazine pouch in one secure unit for an infinite variety of rifle and pistol magazines while only taking up three horizontal inches on the platform.
The new Poly TACO line is HSGI's lightest magazine carrier system, yet weighs under two ounces and comes in a variety of popular colors: Black, Coyote Brown, Olive Drab and Wolf Gray, all with color matched brackets.
Every Poly TACO comes with the new Universal Clip for quick mounting on MOLLE or belt. MSRP starts at $23.00 to $52.00 and are available now at www.highspeedgear.com.