On Purple Heart Day, Americans pause to recognize the wounded warriors of the United States military. The medal is awarded to those who are "wounded or killed in any action against an enemy of the United States or as a result of an act of any such enemy or opposing armed forces."
Looking at the history and traditions of the armed forces, it should come as no surprise that the roots of this medal make it the oldest military award still presented to U.S. service members.
The History of the Purple Heart
Until the Civil War, the U.S. military didn't really award medals for soldiers or veterans of any war. The idea of giving medals was considered a more European military tradition. The idea of the Republic awarding bits of ribbon for combat actions often was looked upon with scorn.
Gen. George Washington didn't see it that way, and we know that because he personally issued medals to a few individuals, three that we know for sure. It was the Badge of Military Merit, and he awarded it to those who performed "not only instances of unusual gallantry in battle, but also extraordinary fidelity and essential service in any way."
The award he gave those men was a "heart in purple cloth, or silk, edged with narrow lace or binding." A few examples of those awarded by Washington still can be seen in museums, but its design is the foundation of today's Purple Heart medal. The award also bears a profile of Gen. Washington, along with an inscription on the reverse that reads: "FOR MILITARY MERIT."
Although the medal fell into disuse from those early days through World War I, it was revived in the years between the world wars. On Washington's 200th birthday in 1932, President Herbert Hoover authorized the wearing of the Purple Heart medal to any service member awarded the Meritorious Service Citation Certificate or who were authorized to wear wound chevrons after 1917.
True to Washington's original order, the medal was authorized for anyone wounded by the enemy and for those exhibiting "meritorious performance of duty." By the end of 1942, it was restricted to those who were wounded by an enemy force.
President John F. Kennedy extended the award to those who were killed in combat in 1962. In 1984, President Ronald Reagan again extended the medal to those wounded by terrorist attacks or as part of a peacekeeping force after 1973. In 1985, those wounded by "friendly fire" were eligible for a Purple Heart as well. The award is authorized when the Secretary of the Army recognizes it as a qualifying attack, or is authorized jointly by secretaries of the branches involved in the attack.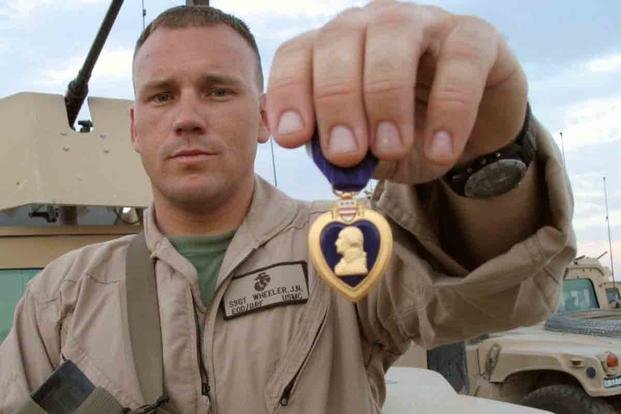 Special Benefits for Purple Heart Recipients
Those who have received a Purple Heart get some extra state and federal veterans benefits. Though the more local benefits vary by state, the federal benefits offered by the Department of Veterans Affairs are fitting for America's wounded warriors.
Read: Veteran State Benefits
These benefits include an automatic upgrade for their VA priority group, 10-point preference when applying for a federal job and full funding for the Post-9/11 GI Bill regardless of time spent on active duty.
Purple Heart Day
Every Aug. 7 since 2014 has been recognized as Purple Heart Day. It's an unofficial holiday, so government offices, businesses and stock markets will be open. Those interested in creating an official local celebration that day can coordinate learning activities or ceremonies with local veterans groups.
Those interested in observing the occasion on their own might want to talk to local veterans about their service, meet those who have received a Purple Heart or donate time or money to the Purple Heart Foundation, which helps fund the Military Order of the Purple Heart, advocating and protecting the interest of wounded veterans and caring for the needs of those veterans and their families.
-- Blake Stilwell can be reached at blake.stilwell@military.com. He can also be found on Twitter @blakestilwell or on Facebook.
Want to Learn More About Military Life?
Whether you're thinking of joining the military, looking for post-military careers or keeping up with military life and benefits, Military.com has you covered. Subscribe to Military.com to have military news, updates and resources delivered directly to your inbox.