Michael "Scott" Speicher will always be remembered at Florida State University. The Navy aviator, who was shot down on the first night of Operation Desert Storm, was an alumnus of the university and ardent fan.
Last Friday, 27 years after his disappearance, Speicher was honored by his alma mater with a memorial outside of the tennis center that also bears his name. The memorial features a pedestal and bronze helmet similar to one he wore while flying. In a ceremony covered by the Florida State University News, friends and family gathered to remember Speicher and pay tribute to his service and his connection to the university.
Speicher's story captured national attention. It had been many years since the country had actively gone to war, and at the time, POWs or MIAs were associated with the Vietnam War. But on the first day of the invasion, Jan. 17, 1991, Speicher piloted his F/A-18 Hornet on a mission to suppress enemy air defenses and was shot down. Initial reports indicated he had been "Killed in Action," but years later, details emerged causing the Department of Defense to classify him as "Missing in Action."
What followed was an 18-year mystery with many clues but few answers. Questions surrounding his disappearance included conflicting reports about whom or what shot him down. Many thought it was an anti-aircraft gun, but others, including reports from several fellow pilots, indicated it was MiG-25.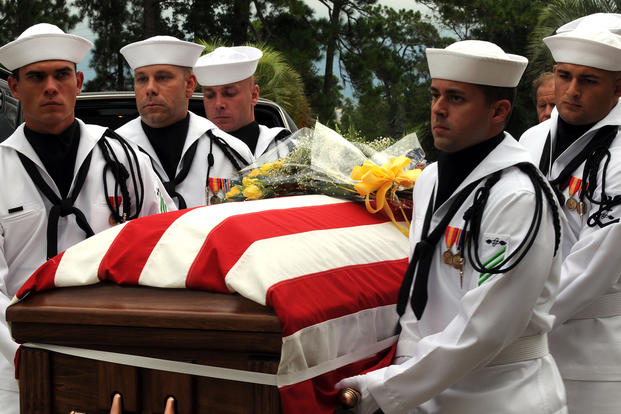 The Department of Defense finally located Speicher's remains in 2009, and his death prompted new policies that ensured searches could not be called off until proof of death was established. His friend and fellow pilot, Buddy Harris, worked hard to get those policies enacted and believes they save lives.
Billy Francis, director of FSU's Student Veterans Center, said just as members of the military come from all backgrounds and unite in a common purpose to safeguard freedom, he believes the Speicher Memorial will spur the same kind of response.
"It is my hope that this memorial will inspire all of us to come together to care for each other to the point of sacrifice -- one for the other -- together," Francis said.
Want to Know More About the Military?
Be sure to get the latest news about the U.S. military, as well as critical info about how to join and all the benefits of service. Subscribe to Military.com and receive customized updates delivered straight to your inbox.