By the time the Normandy invasion began, Brig. Gen. Teddy Roosevelt Jr. was serving in his second world war and had accumulated a slew of military awards. When Roosevelt arrived at Utah Beach on June 6, 1944, he already was deeply respected by the soldiers he led.
It was easy to see why. At his core, Roosevelt was one of them. Never one to lead from the back, the son of the United States' 26th president refused to ask his men to do something that he wasn't prepared to do himself.
Roosevelt had what Laura Jowdy, archivist and historical collections manager for the Congressional Medal of Honor Society, calls gumption.
"He was so desirous to be in the fight and to be where he felt he could make a difference," Jowdy said in a phone interview with Military.com. 
That was never more evident than on D-Day. Roosevelt was posthumously awarded the Medal of Honor, which Secretary of War Henry Stimson presented to his widow in September 1944. Roosevelt's actions on Utah Beach were later described by Gen. Omar Bradley as the most heroic he had ever witnessed in combat. 
The highest-ranking American and the oldest soldier on the beach that day, Roosevelt, 56, did not arrive in France in the best of shape. He had heart issues (which he had not disclosed to Army doctors), used a cane because of arthritis and was coming off a bout of pneumonia. Roosevelt's age and health problems concerned his commanding officer enough that he initially did not want to place Roosevelt in such a leadership role during the invasion. Only after Roosevelt pleaded his case in writing did Maj. Gen. "Tubby" Barton relent.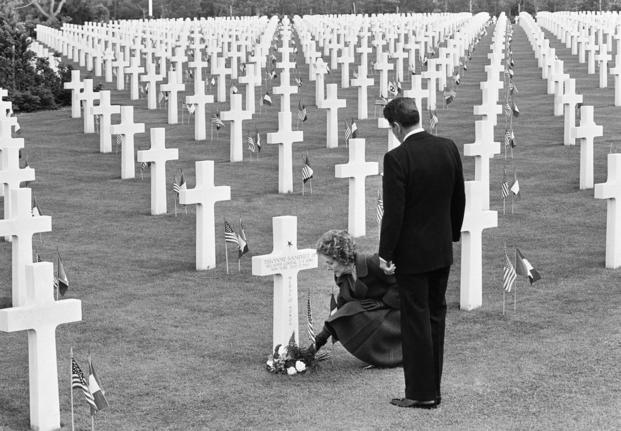 Armed with a cane and pistol, Roosevelt wanted to be out front so he could help reassure young troops, especially after the landing craft arrived more than a mile off course from its intended landing site. As one of the first soldiers off the vessel, Roosevelt led the U.S. 4th Infantry Division's 8th Infantry Regiment and 70th Tank Battalion as they fought their way inland. Despite being constantly bombarded by enemy fire, Roosevelt remained resolute.
"Legend says, he would use the cane to point out targets to his men," Jowdy said. 
Roosevelt greeted each regiment and, when he wasn't helping to clear a path for trucks and tanks on the beach, he tried in his own unique way to boost the soldiers' spirits for what lay ahead by reciting poetry and telling anecdotes about his father to calm his men's nerves.
"Under his seasoned, precise, calm, and unfaltering leadership, assault troops reduced beach strongpoints and rapidly moved inland with minimum casualties," Roosevelt's Medal of Honor citation said. "He thus contributed substantially to the successful establishment of the beachhead in France."
Roosevelt died of a heart attack five weeks after D-Day, leaving behind a legacy that spanned the military, business and politics. Already a successful businessman and banker, Roosevelt received a reserve commission into the Army and was sent to France in 1917. He survived being shot in his left kneecap -- an injury so severe that the decision by his brother-in-law, a doctor, to have Roosevelt transfer hospitals probably saved his leg and maybe his life -- and a severe gas attack. 
After the war, he was instrumental in founding the American Legion and was appointed assistant secretary of the Navy by President Warren Harding in 1921. Roosevelt was ensnarled in controversy during the "Teapot Dome Scandal," when he executed leases of U.S. Navy oil fields to a private oil company, where his brother, Archie, worked. Although both Roosevelts were eventually cleared of wrongdoing, which involved kickbacks they said they were unaware of, the lingering publicity would inhibit Roosevelt Jr.'s future political ambitions.
Roosevelt then was appointed the governor of Puerto Rico in 1929 and governor general of the Philippines in 1932. He remained in the Army Reserve between the wars, then took part in Operation Torch in North Africa and the Allied invasion of Sicily during World War II. He was sent to Britain in early 1944 to help lead the Normandy invasion.
"What he did on D-Day on Utah Beach, he did apparently three or four other times throughout the war already, which is to be out front, to personally be guiding his men, to have an energy and enthusiasm about him for them to succeed," Jowdy said. "He was this great inspirational figure, and the men who served under his command loved him."
Roosevelt is buried next to his brother Quentin, who was killed in WWI, at the Normandy American Cemetery and Memorial in Colleville-sur-Mer.
-- Stephen Ruiz can be reached at stephen.ruiz@military.com.
Want to Know More About the Military?
Be sure to get the latest news about the U.S. military, as well as critical info about how to join and all the benefits of service. Subscribe to Military.com and receive customized updates delivered straight to your inbox.