While Jason Spangenberg carried his ailing friend and former partner through a gauntlet of salutes and tears, security force members struggled to keep their bearing, and an honor guardsman played the sorrowful 18 notes of taps. These somber words were uttered over the radio:
"To all cars, posts and patrols ... to all cars, posts and patrols ... stand by on all radio transmissions ... standby on all radio transmissions. Standby for last call: BDOC to MWD Rico ... BDOC to MWD Rico ... BDOC to MWD Rico ... End of watch for MWD Rico on January 24th, 2018. Rest in peace, MWD Rico."
Early that day, members of the 436th Security Forces Squadron, military working dogs and their handlers formed outside the veterinary clinic at Dover Air Force Base, Delaware, for Rico's "last call" and to say goodbye.
The eight-year veteran military working dog had been suffering from canine degenerative myelopathy for the last few months, and the decision was made to lay him to rest.
"It's hard to describe the loss I feel," said Tech. Sgt. Matthew Salter, 436th SFS kennel master and Rico's first handler. "I know Rico is in a better place and is running around again finding bombs and biting bad guys, but it's also sad because my partner isn't around for me to see whenever I need that look he would give. He had a way of saying, 'Get up, Dad; time to work.'"
That feeling of loss was visible on the faces of all who attended the somber ceremony.
Related: Salute Military Working Dogs on K9 Veterans Day
"The unit is feeling the same loss as I am," Salter said. "These guys not only had him as a partner on the road, but they also take care of the working dogs at night ... so they, too, develop a bond and take ownership for the health and welfare of the dogs in the unit."
Rico retired from service as a MWD in January 2016, and for the past two years, he lived as the family pet of Spangenberg, who had been his last handler.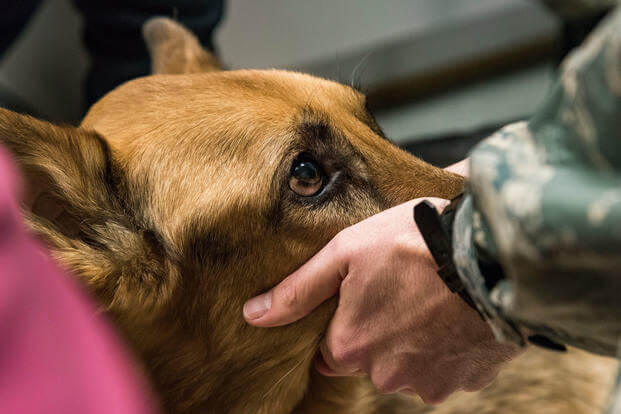 Before that, Spangenberg and Rico tore up Afghanistan, both earning the Bronze Star for their selfless service detecting more than 100 pounds of explosive material on more than 100 combat missions over a four-month period in 2013. The two also trained more than 300 Afghan local police officers on counter-improvised explosive device tactics and techniques.
Their teamwork was even locally recognized on the "War Dog Memorial" featuring their likeness in downtown Dover, which reads: "They protected and watched over us at home and on the field of battle. We are forever grateful for their undying loyalty, devotion and faithful service. They are not forgotten."
"Special thanks to Staff Sergeant Jason Spangenberg, War Dog 'Rico,'" reads a brick at the base of the memorial.
While Rico was formally recognized for service with Spangenberg in 2013, throughout his career, he served with a total of three handlers, patrolled the installation and went on several overseas deployments. He even supported dozens of Secret Service missions.
Beloved by his handlers, base and community, Rico touched many lives during his service.
"MWD handlers and their dogs form a bond that is almost indescribable," Salter said. "These teams put each other's lives in their hands every day, whether it's riding patrol and performing security duties at home station or while they are down-range conducting sweeps on vehicles entering bases or out on patrol assisting our sister services looking for [improvised explosive devices] and hostile forces. He has touched countless lives all over the world through the protection he provided to [distinguished visitors], the public and the teams that followed him through the battles of Afghanistan."
Amongst all the connections Rico made, one stands apart.
"The bond that Rico and I shared was special," Spangenberg said. "It started off as partners. We then deployed and it completely changed. We became family. I needed him and relied on him to keep me and the others around us safe."
That special relationship was built over time, through countless moments both on and off the clock.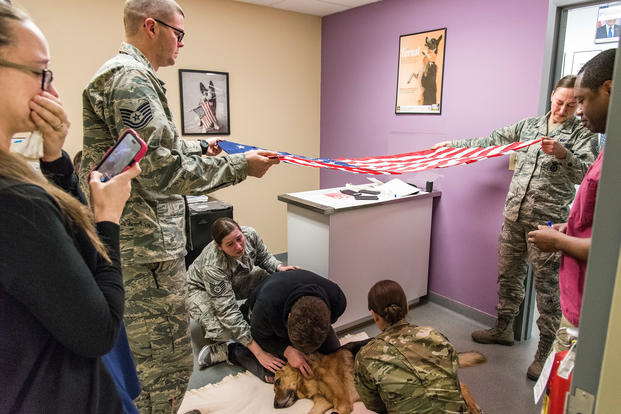 One defining moment for the two, a moment Spangenberg said he will never forget, occurred on the previously mentioned deployment to Afghanistan.
"I didn't have the chance to get much mail, and when I did, it was awesome," Spangenberg said. "In a package, I got like a three-pound bag of beef jerky, which was amazing. I left Rico in my room to go to a 30-minute briefing about a mission. When I came back to the room, Rico had jumped up on the table, grabbed the bag of jerky out of the box and literally ate the entire bag -- all in 30 minutes.
"Needless to say, I wasn't happy and neither was his stomach for the next couple days. I would look at him and just say, 'Karma sucks, pup.'"
Spangenberg and Salter shared similar tales of their time spent with Rico while base and squadron members paid their respects. A few minutes later, Spangenberg carried Rico the final few steps to the veterinary clinic.
"Honestly, the turnout was amazing," Spangenberg said. "So many fellow defenders and friends came out, which made it super special -- having them there to share that moment. Rico will be missed greatly, not only by me, but my family. From just taking care of him daily to most importantly having his companionship and love. He was an amazing K-9, friend, partner and family member."
Spangenberg thanked Salter; Staff Sgt. Ashley Beattie, 436th SFS unit deployment manager; and the entire squadron for their outstanding support during the last-call ceremony.
"The 'last call' is something that police officers all over the nation perform," Salter said. "It's our way of saying the officer is no longer in service or has fallen. It gives us a chance to let everyone monitoring the net to know the officer or K-9 is no longer with us ... It's our way of saying goodbye."
Want to Know More About the Military?
Be sure to get the latest news about the U.S. military, as well as critical info about how to join and all the benefits of service. Subscribe to Military.com and receive customized updates delivered straight to your inbox.