Mohamed Farrah Aidid was one of Somalia's most dangerous and aggressive warlords. He was instrumental in the overthrow of communist dictator Mohamed Siad Barre. After the ouster of Barre, Somalia fell into a period of civil war, where rival factions competed for power, led by former military officers, who became warlords. Aidid's faction became known as the United Somali Congress (USC) in 1991.
Meanwhile, his son, Hussein Farrah Aidid, was busy serving in the United States Marine Corps during Desert Storm. Neither knew the son would follow in his father's footsteps.
The younger Aidid had already immigrated to the United States in 1979 at age 17. After graduating from high school, he joined the Corps and began an eight-year career that would take him to war in Kuwait and to Somalia, first as a Marine and then to lead Somalis.
In 1992, Somalis were facing widespread famine after the breakdown of the central government. When the United Nations tried to intervene, rival factions prevented adequate distribution of food and Mohamed Farrah Aidid's USC faction began to attack UN peacekeeping forces.
Aidid also began to intercept UN food shipments. After 24 Pakistani soldiers were ambushed by Aidid's fighters, the UN peacekeeping mission turned into a more aggressive operation. The Unified Task Force, led by the U.S., was mandated by the UN to "prepare the way for a return to peacekeeping."
President George H.W. Bush authorized Operation Restore Hope to bring the militias under control and properly distribute food to the Somali people. The first boots on the ground were the I Marine Expeditionary Force, which included one Marine acting as an interpreter, Hussein Farrah Aidid.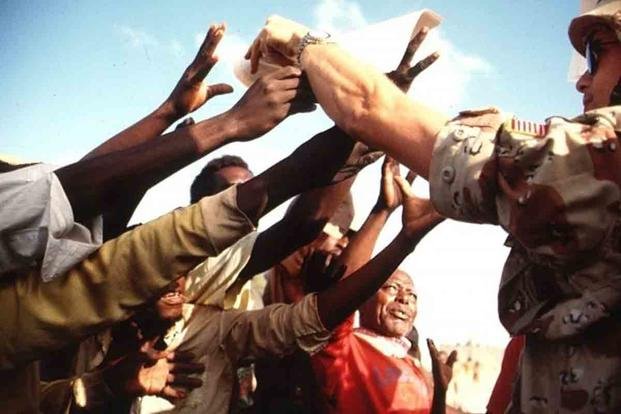 If some of these names and events seem familiar, that's because Mohamed Farrah Aidid's militia was the group targeting American special operators in the Battle of Mogadishu. The story later was told by journalist Mark Bowden in his book, "Black Hawk Down." It also was turned into a movie of the same name.
Mohamed Farrah Aidid is never seen in "Black Hawk Down," but his name is mentioned throughout the film as the man in control of the militias fighting the Americans. But by the time he became the target of Task Force Ranger in 1993, the younger Aidid already had left Somalia back to his stateside life in the Marine Corps.
Hussein Farrah Aidid left the U.S. military in 1995 and became a naturalized citizen shortly after. That same year, his father back in Somalia declared himself president of the country, a declaration not recognized by any foreign nation. His rival, Ali Mahdi Muhammad, was the recognized president and within a year was fighting Aidid's forces for control of Mogadishu.
Mohamed Farrah Aidid was wounded in the battle but not killed immediately. He died from a heart attack a month later, in August 1996, while undergoing surgery for the wound. Two days later, his faction, now called the Somali National Alliance, declared his son, Hussein, their leader and interim president of Somalia.
Back in the United States, Hussein had just turned 33 and was working as a clerk in a West Covina, California, engineering firm for $9 per hour while going to school part time. He dropped everything and went to Somalia to take his father's place. It was his third visit to the country. He was still a reservist.
''It surprised even us,'' Ali Mahdi Muhammad told The New York Times of his ascension to lead Aidid's clan. ''It's impossible -- 34 or 33 years old and inexperienced. We don't know how he can lead the country.''
Apparently, neither did Aidid. He went back and forth between cooperating with the United Nations and continuing the fight for control of the country. He eventually renounced his claim to the presidency, signing a peace agreement with Ali Mahdi Muhammad that shared control of Mogadishu between the rival factions.
Aidid also began cooperating with the United States in the days after the Sept. 11 attacks. He informed the administration of George W. Bush about Islamist activity in Somalia and later joined the Somali Transitional Federal Government in multiple roles, along with other former warlords.
He eventually defected to Eritrea after being fired from his postings but hired a Miami political consulting firm to help him build support for a run at becoming Somalia's legitimate president. His bid for the presidency will be fought for with ballots instead of bullets.
-- Blake Stilwell can be reached at blake.stilwell@military.com. He can also be found on Twitter @blakestilwell or on Facebook.
Want to Learn More About Military Life?
Whether you're thinking of joining the military, looking for post-military careers or keeping up with military life and benefits, Military.com has you covered. Subscribe to Military.com to have military news, updates and resources delivered directly to your inbox.