Army Chief of Staff Gen. James C. McConville arrived at Brooklyn's Fort Hamilton on June 28, 2022, to make good on an error that happened nearly 80 years ago. The general finally presented 97-year-old William Kellerman with the Prisoner of War Medal, Bronze Star and a Purple Heart.
Kellerman believes the paperwork for medals was never filed with the War Department because his superior officer didn't believe the soldier's story of capture in the hedgerows of France, escape via stolen bicycle and unlikely survival.
The Army, having reviewed the story, believes it happened.
At just 19 years old, Pfc. Kellerman waited six days to land on Utah Beach after thousands of American troops stormed the beaches of Normandy on D-Day, June 6, 1944. It was the beginning of a trip of a lifetime, one he was certainly not trained for.
As June turned into July, he and Company D of the 79th Infantry, 315th Regiment fought their way to the now-infamous inland hedgerows. On July 4, he was ordered to run a message to his battalion headquarters, because the company radio had been shot out by counter-attacking Germans.
Bullets flew overhead as he moved deliberately back to his battalion HQ. Control of the region was far from secured for the Allies, which was made apparent when Kellerman stumbled into a German tank, and he was surrounded by the German Wehrmacht, guns drawn. His CO's message would not be delivered -- not by Kellerman, anyway.
"I would run across the field and dive over the hedgerow headfirst, and pick myself up and go again," Kellerman said in a 2020 interview. "After about three or four of them, I picked myself up, and there's a German tank. And they pointed it at me, so I gave up."
Kellerman's family received a notice that their son, who had been drafted in 1943, was missing in action as of July 22, 1944. Neither the Army nor his family knew the young soldier had been captured by the Germans and began the long march to a prisoner of war camp, guarded by the Nazi SS.
He and dozens of other POWs were forced to march at night due to Allied fighters and bombing runs. During the day, they would hole up inside barns and other structures, given one piece of bread to eat. During a rest along the way to Germany one night, the Nazis allowed their prisoners to stop and rest. Kellerman saw his opportunity.
Knowing the SS guards only took a head count in the mornings, he dashed into a bank of bushes and waited for the group to march away. When they were long gone, he bolted for a nearby farmhouse, where the occupant took him in.
"I said, heck with this, and I crawled into the bushes," he said. "As soon as they were out of sight, I ran like hell in the other direction. I kept on going until it got light."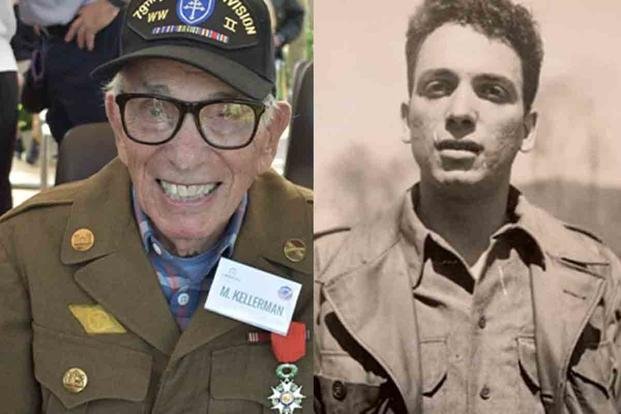 The Frenchman burned his uniform and gave him a set of French civilian clothes, then politely told the American soldier to get out. If the Nazis found him there, everyone would die. He walked in the woods at first, but soon grew bold enough to walk the roads, even tipping his beret to passing German troops.
Kellerman soon came upon an untended bicycle, which he promptly stole so he could ride his way 600 miles toward friendly lines. He was aided again by French civilians as he rode, provided food and shelter, until his new bike's tire went flat.
The incognito soldier just happened to stop at a bike shop that was secretly a French Resistance headquarters. He was once again met with drawn guns. The Frenchmen all but interrogated him, taking time and effort in proving Kellerman wasn't a German infiltrator.
The resistance fighters moved Kellerman to a secret camp in the Fréteval Forest set up by the British Special Operations Executive, where he joined almost 200 Allied soldiers and downed pilots. He stayed in the camp, codenamed "Sherwood," until Allied forces could reach it in August 1944. That's when the Army notified his family and battalion command he was alive.
Pfc. Kellerman then rejoined his unit and continued fighting with the 79th Infantry Division until he was wounded by a sniper on April 11, 1945. He was first sent to a field hospital in Czechoslovakia, but his wound became infected, so the Army moved him to a hospital in Germany, where his war ended. Soon after, the war in Europe was over
He left the Army in 1946, his incredible escape still unrecognized by the U.S. military.
It wasn't until he traveled to Normandy in 2018 that his daughter, Jean Kellerman-Powers realized his story was true. The French government awarded him the Legion d'Honneur for his service, because his time with the French Resistance documented the story. Ever since, Kellerman-Powers has been petitioning the Army to make it right.
The Army says an administrative error in processing Kellerman's records was the reason for the delay.
"I'm so overwhelmed, it's hard to find words," Kellerman said after McConville presented him with the medals. "But your presence is my best present. It's like I've been in the shadows all my life and someone turned a light on and I can really see who I am."
-- Blake Stilwell can be reached at blake.stilwell@military.com. He can also be found on Twitter @blakestilwell or on Facebook.
Want to Learn More About Military Life?
Whether you're thinking of joining the military, looking for post-military careers or keeping up with military life and benefits, Military.com has you covered. Subscribe to Military.com to have military news, updates and resources delivered directly to your inbox.