WHITE SANDS MISSILE RANGE, New Mexico -- Retired U.S. Army Col. Ben Skardon, 100, a survivor of the Bataan Death March and revered alumnus and professor emeritus of Clemson University, was once again the oldest by far of the 8,380 registered participants in the annual Bataan Memorial Death March on March 25.
He is the only survivor of the real march who walks in the memorial march.
In a solemn ceremony at White Sands Missile Range the day before, Skardon was presented with a Filipino World War II Veterans Congressional Gold Medal.
The Congressional Gold Medal and the Presidential Medal of Freedom are the highest civilian awards in the United States. On Nov. 30, 2016, the U.S. Congress passed final legislation, granting this award to Filipino veterans of World War II. Skardon was the commander of Company A of the 92nd Infantry Regiment PA (Philippine Army), a battalion of Filipino Army recruits on the Bataan Peninsula in the Philippines, and thus qualified to receive the honor.
"I am one of five brothers who served overseas in WWII. At one time, two of us were MIA," Skardon said during a speech after the ceremony. "My oldest brother was captured during the Battle of the Bulge. I was captured by the Japanese in the surrender of Bataan. I began the march at ... the southernmost point on the Bataan peninsula, where I was an ambulatory patient recovering from a severe case of malaria, which nearly cost me my life, according to the doctor who treated me."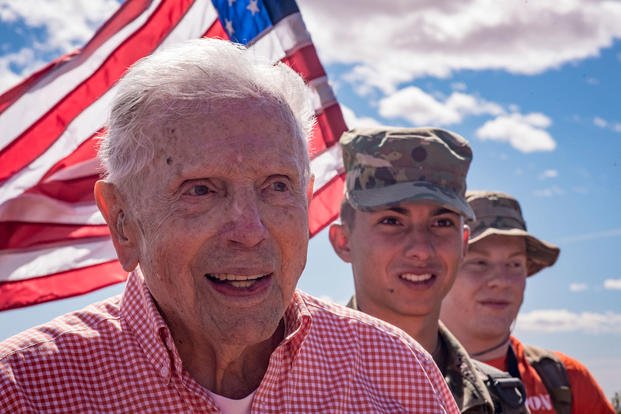 Skardon led his troops through some of the fiercest and bloodiest fighting of the war, earning two Silver Stars and two Bronze Stars for valor in combat, as well as a Purple Heart during the first four months of the war -- an incredible array of awards for any soldier.
On April 9, 1942, he became a prisoner of war with tens of thousands of his brothers-in-arms when American troops in that area of operation were forced to surrender to the Japanese.
Skardon and his fellow POWs were marched 80 miles north by their ruthless captors in one of the most notorious war crimes in history: the Bataan Death March.
"Two incidents which occurred during the early stage of the march caused me to realize that I was in serious trouble with our captors," Skardon said. "The first was the sight of two bodies of American soldiers in the middle of the road. They had been run over by numerous Japanese trucks until their bodies looked like cardboard images.
"The second episode occurred when our column was halted along the roadside, and I and two soldiers at the back of the column tried to answer a call from nature. I squatted down with the two soldiers behind me. I heard a thud and the soldier behind me said, 'They bayoneted him!' Instantly we pulled up our trousers and rushed to the back of the column as quickly as we could. I was terrorized. From then on, I realized that survival would be first and foremost our way of life."
Skardon, already weak and starving from months of intense fighting and illness, was herded with other sick, wounded and starving soldiers through the searing heat of the Philippine jungles.
Thousands died. Those who survived the march then had to survive the inhumane and brutal conditions of Japanese prisoner-of-war camps.
Skardon survived for more than three years in the camps despite becoming deathly ill with malaria, beriberi, diarrhea and other ailments. Two fellow Clemson alumni, Henry Leitner and Otis Morgan, kept him alive by spoon-feeding him and eventually by trading his gold Clemson ring -- which he had managed to keep hidden -- for food.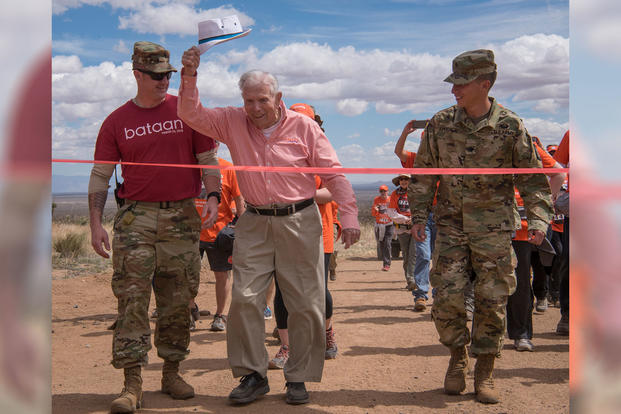 Incredibly, as the tide of the war was turning against his captors, Skardon miraculously survived the sinking of two unmarked Japanese transport ships trying to steal him and other POWs away to mainland Japan -- including the infamous sinking of the Oryoku Maru when the U.S. Navy, unaware of the prisoners aboard, torpedoed the ship.
The same thing happened to the next ship they tried to send him to Japan in. Sadly, Morgan was killed during the bombing of the Oryoku Maru, and Leitner died in a Japanese POW camp in 1945. The devastating news of their demise after he finally reached Japan in a third unmarked ship, Skardon says, was the lowest point of his entire ordeal.
He did not give up. Eventually he ended up in a prison camp in Manchuria, where Russian units freed him in August 1945. He was 24 years old and weighed 90 pounds. Despite his horrible ordeal in WWII, he stayed with the Army, serving in Korea and Germany and finally retiring at the rank of colonel in 1962.
Skardon attended Clemson University, then an all-male military school, from 1935 to 1938. He returned to Clemson after retiring from the Army and became an English professor. He was named an alumni master teacher in 1977 and taught until his retirement in 1985.
In 2006, Skardon tracked down retired Army Col. Gerald Schurtz, the son of Maj. Paul Schurtz, who had languished side by side with Skardon in the Cabanatuan prison camp. Maj. Schurtz perished with 270 others, including Morgan, in the hellish sinking of the Oryoku Maru.
"He'd found my name and got my phone number somehow or another and called me out of the blue. I almost didn't answer the phone because I figured it would be somebody wanting money or something," Schurtz said. "But I answered, and a voice says, 'My name's Ben Skardon, and I was with your father in Cabanatuan for three years and he called name every morning at roll call.'"
Schurtz, who is one of the original organizers of the memorial march, still has to pause and choke back tears when he talks about that moment.
"After I got up off the floor, we talked, and I told him we were having the march in the next three weeks. Would he like to come? And he came."
That's how Skardon came to White Sands Missile Range for the first time. Then 88, he was overtaken by the experience, and after all the runners started, he decided to walk.
"He just spontaneously decided he was going to walk, and he walked pretty much that eight miles," Schurtz said. "I had to scramble like hell to get him a medical attendant to go with him. The first year the attendant walked, the next year we decided to have a vehicle there for him and that's how we still do it."
For 10 years, the support vehicles were unneeded as Skardon walked the entire 8.5 miles. This year, at the age of 100, he walked the first five miles, then rode on an ATV off and on for the final three miles. In total, it's estimated he walked close to seven miles.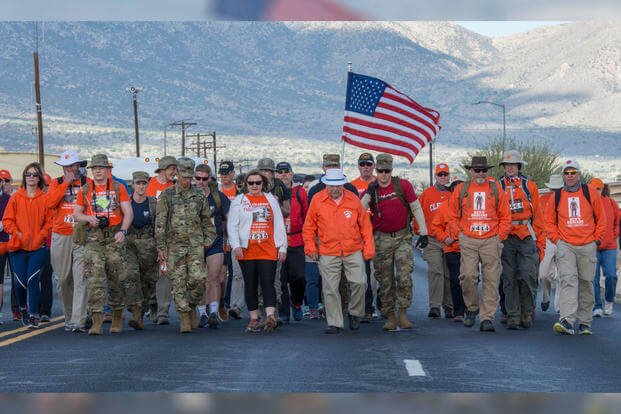 The group of former Clemson students, family and friends known as "Ben's Brigade" that walks with him grew in numbers every year. This year, fittingly, there were about 100 of them, including Clemson's Reserve Officers' Training Corps honor guard, the Pershing Rifles.
"I should like to acknowledge the support of Ben's Brigade. I'm Ben," quipped Skardon during his speech. "I would like to pay tribute to those who make the Bataan Memorial Death March a reality for me. Coming to White Sands Missile Range is now my pilgrimage. It is the most focused, solemn, meaningful event that I have ever participated in. I am privileged to be making my 11th trip."
While Skardon is the only survivor who walks, there were six others in attendance this year. All in their late 90s, they are given a royal welcome and treated like rock stars by the thousands who gather to run in their honor. Otherwise tough-as-nails men and women weep when they shake their hands.
It is one event where real heroes get their due, Schurtz said.
"All these survivors that come, come at great personal conviction, and they all have a story to tell that's awesome to listen to," Schurtz said. "Heroes seem to be all around us these days ... heroes on the mound, heroes in football games, heroes in basketball – but there are real heroes, and these are some of them."
Want to Know More About the Military?
Be sure to get the latest news about the U.S. military, as well as critical info about how to join and all the benefits of service. Subscribe to Military.com and receive customized updates delivered straight to your inbox.