In person, Army veteran Mick Doto is a vibrant, energetic presence, your typical friendly Jersey guy. It's only when you look a little closer that you begin to notice the wounds of war: the sunglasses he wears indoors to protect his sensitive vision due to a traumatic brain injury (TBI), the flecks of scars around his left eye, both injuries the result of IED explosions from his time serving as a convoy security specialist in Iraq.
Years later, Doto still vividly recalls the attack that resulted in his injuries, when an insurgent in a fuel truck attempted to run his convoy off the road. "Nobody was going to shoot at a fuel truck. We're Army, we're smart. Bullet, fuel truck, boom, so no," he jokes. The subsequent collision resulted in a back injury, as well as TBI: "It wasn't just the residual type of blast injury that you just shake off, and you're like, everything smells like toast now."
After recovering in Mosul, Doto would eventually return to convoy security, but the effects of his injuries would linger. "We were lucky enough to have all of our fingers and toes, but we got a lot of the more invisible disabilities... things we didn't even know were issues at the time," he says.
Today Doto is participating in the annual National Disabled Veterans Sports Clinic, organized by Disabled American Veterans (DAV) and the Department of Veterans Affairs (VA). Along with 400 other veterans, he is taking part in adaptive sports events, and in the process he's bringing some empowerment and fun back into his life.
Path to the Mountain
Doto is forthright when talking about the challenges of reentering civilian life as a disabled vet. "I have [low points] from time to time," he says. "Sometimes as a disabled veteran, even if you disclose that, people don't necessarily want to adapt or recognize that certain adaptions are necessary, and it really got me down. I was used to having support, 'Hey, I'm working as hard as I can... and I'm hoping you can do the same for me.' Sometimes, people just kind of like to leave you out on your own.
"My connections [at the winter sports clinic] made it easier for me to get through my day-to-day, my week-to-week. I've been leaning on people I've met at this clinic for the past year or two years. It's making a big difference."
Doto credits his wife Kerry Hallman, who is attending the clinic with him, with getting him started on the adaptive sports path.
"My wife was really crucial in ensuring that I follow all the different treatments that were available, and one was occupational therapy. Any veteran who is even wondering if they can benefit from it should definitely talk to an occupational therapist. It helped me recognize some deficits that I didn't even know I had."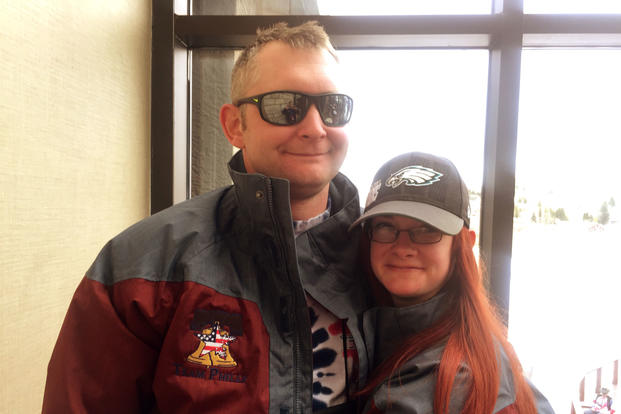 Doto was particularly attracted to sporting events such as the clinic, where he participates with who he calls "my brothers and sisters... my battle buddies." Although he's attended the clinic a few times, Doto can recall his first time in Snowmass, Colorado, where the event is held. "I was probably a hard pill to swallow my first year, I tell you what," he chuckles. "I was getting into arguments with my coaches over moving my helmet, all sorts of ridiculous stuff, because I'd never been in this kind of environment before. I fell down a lot -- on the race course I was like a snowball, falling down the mountain, and there was a learning curve. 
"But even with the little hiccups and challenges, I had a great time. I still see people from my first year. I just ran into a gentleman in the elevator, and we just picked up where we left off last year. It's great."
With his particular disabilities, Doto says his biggest challenges involve sight. "Because of my TBI I have some sensitivity to light, so when I see a shadow, I don't always know if it's a hole, or a group of people, or a tree, so that can be a little difficult at times. I have an instructor in front of me and I use him to gauge where the terrain is safe, and we just fly down that mountain. We have a great time."
Taking Advantage of Opportunities
For those interested in attending the clinic, Doto stresses the multi-sports opportunities offered at the event. "Everybody says good things come to those who wait. Not here. If you wait you're going to miss out on an opportunity. There's so many opportunities. There's opportunities to learn fly fishing, sled hockey, scuba diving, all sorts of adaptive skiing.
"If there's something you don't like, you'll find something you will like. They're really great at switching the activities around, too. It's very organic here."
The motto of the Winter Sports Clinic is "miracles on a mountainside," which Doto readily agrees with. "It saved my life, and every time [I return] it recharges me," he says. "When they say miracles on the mountain, it's real. I've had my own little miracles today."